Refrigeration Evaporators

Colmac Coil manufactures blast freezers, blast chillers, hydrocoolers, Baudelot coolers, product coolers, and process room coolers for processes involving fish, meat, poultry, dairy and cheese, fruit, vegetables, and processed foods.
We are proud to introduce the new A+ Series™ Air Coolers for industrial refrigeration applications. Compared to previously available designs, this all new product line offers unsurpassed levels of energy efficiency, reliability, worker safety, and food safety.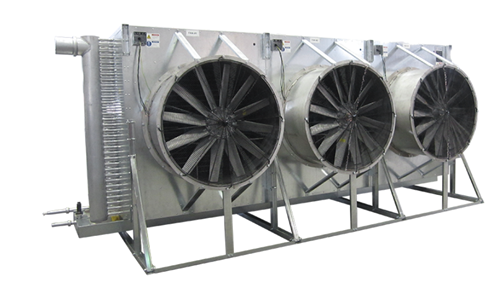 Custom designs are also available for OEM customers building spiral freezers and chillers, IQF tunnel freezers, and pressure coolers. Custom evaporators with fans, motors, and controls can be designed with a wide choice of materials arranged for any working fluid. 
Liquid nitrogen, carbon dioxide, Dynalene™, d-limonene, and other low temperature fluids are available for low temperature evaporators and coolers. Defrost options include hot gas, water, electric, interlaced glycol, and air. The refined hot gas drain pan design insures complete heating and draining of melted frost with no residual ice buildup. 
Unique high hygiene food-safe evaporator designs have been reviewed by the USDA and deemed to be suitable for dairy industry applications. Anti-microbial construction has been developed to actively kill pathogens such as E-coli, Listeria monocytogenes, and Salmonella on coil surfaces. Corrosion resistant construction is available for evaporators operating in marine environments, or where caustic soda, sodium hypochlorite, and other aggressive cleaning chemicals are used.
FES Midwest Partners
Partners