Dry Coolers & Condensers

Coil Fluid Coolers are multiple row compact finned tube coolers with direct drive fans. The fluid circulates in multiple passes through the tubes and cooling air flows over the exterior finned surface. They are designed to provide cooling of Water, Ethylene Glycol/Water, and Propylene Glycol/Water solutions in a variety of closed loop applications. Closed loop cooling eliminates the cost of fluid treatment usually associated with the use of cooling towers. The compact plate fin heat transfer surface provides a compact and efficient air cooled fluid cooler. 
Colmac Coil air-cooled condensers are multiple row compact finned tube condenser coils with direct drive fans. The units are designed for use in standard commercial and industrial refrigeration, and air conditioning systems. These units reject heat from the refrigerant to ambient air as the refrigerant leaves the compressor. Typically, the refrigerant is first de-superheated, and then condensed from vapor to liquid within the condenser.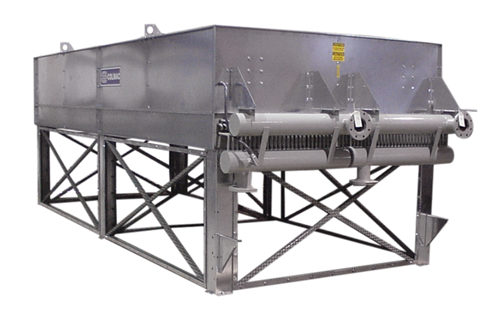 The fan motors are heavy-duty, rigid foot mounted, direct drive, totally enclosed fan motors with moisture protected rain shields (slingers) suitable for an industrial environment. 
Each Colmac Coil fluid cooler and condenser is factory wired for single-point connections in the field to the weatherproof terminal box on each cooler or to each individual motor at each fan bay depending on customer specification. Fan motors greater than 1 Hp do not have internal thermal overload protection controls; they must be provided by others. Fan Motors 1 Hp and smaller do have internal thermal overload protection. Standard construction does not include fan cycling and fused disconnects which must be supplied by others. Individual motor protection and fan cycling controls are available as optional extras.
FES Midwest Partners
Partners